Hello, this is Maeda from the Stroly development team. As we enter July, festivals are held all over the country. At the Gion Festival in Kyoto, the Yamahoko Junko was carried out in its entirety for the first time in four years, and it seems to have been a great success.
In the area where I live, Bon Odori was held for three days from July 13th. It is a rare Bon Odori that has continued since the Edo period, and although it is a very plain and simple song and dance, it was crowded with many people.
Let's take a look at today's release.
Update information for stroly-viewer v14.1.0
In the map list part of "more maps", the currently selected map is placed on the far left.
Before the renovation, the currently open map may be in the middle or at the end of the list, making it difficult to switch between map layers.
With this renovation, by placing the currently open map to the left of the map layer, even if you select a map layer, you can immediately select the original open map.
Changed the position of the Zoom button to make it easier to operate.
Before support, the Zoom button was placed near the center of the screen, making it difficult to operate with one hand on mobile devices.
With this support, the Zoom button has been placed at the bottom of the screen, making it easier to operate with one hand on mobile devices.
Improved usability when swiping the map with fewer buttons when spots are opened
When the spot was opened, there were multiple buttons on the left and right sides of the screen, which hindered swipe operations.
The button that displays the list of spots that was displayed before the support can be opened from the button surrounded by the border in the image below.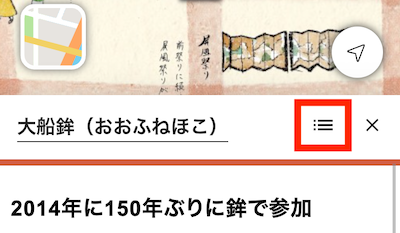 Update information for StrolyCom v6.16.0
A duplication function has been added to the function that allows you to easily publish maps.
The other day, we released a function that allows you to easily publish maps. By using this function, you can publish maps without uploading illustration maps and mapping work. You can easily register spots and publish the map, so I hope you will use it.
This time, we added a duplication function to this function. Please use it for creating a different version with a different way of showing the spot or creating a backup.
At Stroly, we strive to develop new features and improve features every day to provide an exciting user experience. Please continue to look forward to the release.
If you have any problems using Stroly or have any requests, please feel free to contact us.
We are looking forward to hearing from all the staff and users.